Saves time & money

The customer
card
With the prepaid customer card (no contract), you save not only the regular trip to the ticket machine, but also money. You simply load your desired amount of credit onto the transponder card at the ticket machine and then park at our discounted special conditions according to the current price list.
When leaving, you just need to hold your card against the barrier terminal and the parking time will be automatically deducted from your available credit.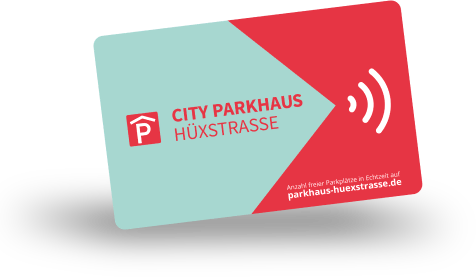 You can get the customer card from us free of charge and, as a special bonus, we will give you a starting balance of €5. The starting balance cannot be paid out.
The customer card is linked to your personal details so that we can transfer your credit to a new card in the event of loss.
Order

Customer card
Your details
Simply enter your details here to submit an enquiry. We will handle your enquiry as quickly as possible and send you your new customer card by post. The order of the customer card is completely non-binding. There is no contractual obligation.
address
City Parkhaus Hüxstraße
Hüxterdamm 3
23552 Lübeck
Mobile: 0176 72841953
info@parkhaus-huexstrasse.de
parkhaus-huexstrasse.de
Operator:
Thomas Wieschendorf